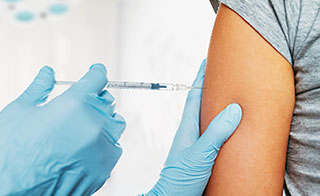 The Healthy People 2020 report, published by the US Department of Health and Human Services, includes targets for reducing vaccine-preventable disease rates and increasing vaccination rates in all age groups. According to the report, for each birth cohort (group of individuals born in the same year), immunization with the routine childhood vaccination schedule prevents 14 million cases of disease and reduces direct healthcare costs by $9.9 billion. Vaccines are one of the most cost-effective clinical preventive services; however, thousands of people in the US do not receive them and suffer – even die – from vaccine preventable diseases. From 2010 through 2014, flu-related deaths in the US ranged from 12,000 to 56,000 per year. Pneumococcal pneumonia leads to about 19,000 deaths every year, and as many as 1.4 million people currently suffer from Hepatitis B, with liver cancer as a potential complication. There have been a number of recent measles and pertussis outbreaks in communities with pockets of unvaccinated and under-vaccinated children.
In order to meet the Healthy People 2020 targets, all healthcare providers should stay up-to-date on vaccine recommendations and play an active role in immunizations. The Centers for Disease Control and Prevention (CDC) and its Advisory Committee on Immunization Practices (ACIP) update their recommendations for routine immunizations annually, while vaccine-specific recommendations are typically updated every 3-5 years (except influenza, which is updated yearly). Additionally, the CDC publishes the General Recommendations on Immunization and the Epidemiology and Prevention of Vaccine-Preventable Diseases (known as "The Pink Book"), which are considered core references for vaccine providers...
CE Hours
1.50
CE Units
0.150
Activity Type
Target Audience(s)
Pharmacists, Nurse Practitioners, Clinical Nurse Specialists, and Registered Nurses
Accreditation(s)
This CE activity was developed by

The Rx Consultant,

a publication of Continuing Education Network, Inc.


CE activities for Pharmacists and Pharmacy Technicians:
This continuing education (CE) activity meets the requirements of all state boards of pharmacy for approved continuing education hours. CE credit is automatically reported to CPE Monitor.

CE activities for Nurse Practitioners and Clinical Nurse Specialists:

This continuing education activity meets the requirements of:
The American Nurses Credentialing Center (ANCC) for formally approved continuing education (CE) hours, and CE hours of pharmacotherapeutics.
The American Academy of Nurse Practitioners Certification Program (AANPCP) for acceptable, accredited CE.

This is a pharmacotherapeutics/pharmacology CE activity.

The ANCC requires all advanced practice nursing certificants (CNSs and NPs) to complete 25 CE hours of pharmacotherapeutics as a portion of the required 75 continuing education hours.
Pharmacology CE is recommended by the AANPCP and will be required for Certificants renewing certification starting January 2017.
Most State Boards of Nursing require a minimum number of pharmacy contact hours to renew an advanced practice license.

Continuing Education Network, Inc. is accredited by the Accreditation Council for Pharmacy Education as a provider of continuing pharmacy education.
Requirements for CE Credit
A Certificate of Achievement is awarded to participants who successfully complete all activity requirements. Statements of Credit will be available online within 60 days on participant's CPE Monitor profile at www.nabp.net. It is the participants responsibility to ensure your credits are uploaded within 60 days from the live session date. After this time you will no longer be able to claim your CPE credit.
Objectives
Discuss vaccine-specific indications and contraindications for patients with altered immunocompetence (including HIV infection and asplenia).
Discuss vaccine-specific indications and contraindications for patients with diabetes, cardiovascular disease, and chronic lung, liver, or kidney disease.
Describe vaccine-specific recommendations for pregnant women, men who have sex with men, and for patients with egg allergy.
Speaker(s)/Author(s)
Jeff Goad , PharmD, MPH
Professor and Chair of the Department of Pharmacy Practice,, Chapman University School of Pharmacy


Brief Bio : Jeff Goad, PharmD., MPH, Associate Professor and Vice Chair, Titus Family Department of Clinical Pharmacy and Pharmaceutical Economics Policy, USC School of Pharmacy.
Jelena Lewis, PharmD, PharmD
Assistant Professor of Pharmacy Practice, Chapman University School of Pharmacy.


Brief Bio : Jelena Lewis, PharmD is an Assistant Professor of Pharmacy Practice at Chapman University School of Pharmacy. She is also a faculty-in-residence at St. Jude Heritage Medical Group where she provides chronic disease state management. se state management.
Activity Number
0428-0000-17-008-H06-P
Release Date:
Aug 23, 2017
Credit Expiration Date:
Aug 23, 2020
CE Hours
1.50
The CE Activity developed by The Rx Consultant