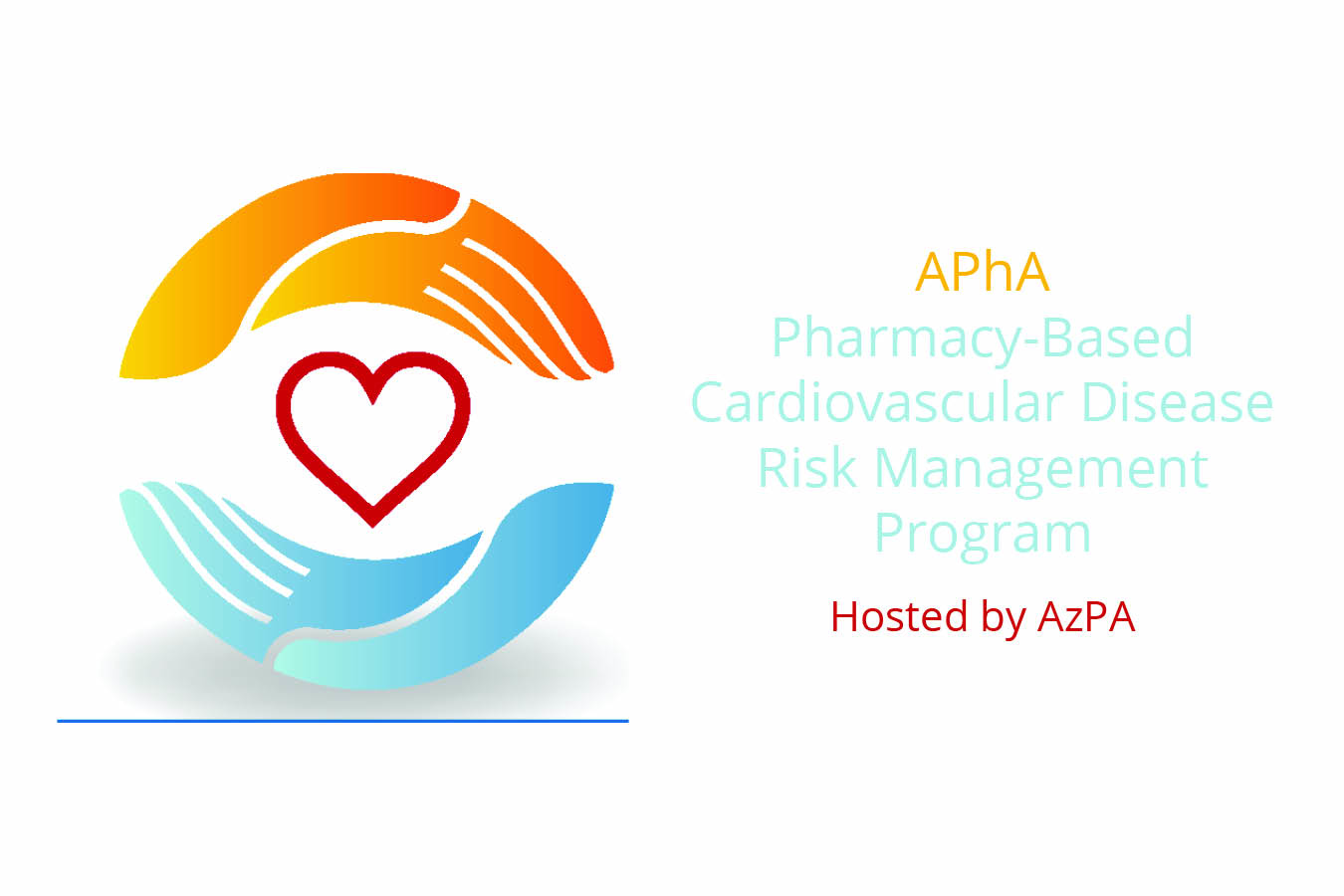 April 27, 2018
Tucson Marriott Universisty Park | 880 E. 2nd Street, Tucson, Arizona
8:00am-5:00pm
TO BOOK YOUR ROOM: CLICK HERE FOR THE $149 GROUP RATE
(Please do NOT book through outside vendors such as Hotels.com etc. AzPA will not get credit for the room.
Be sure to mention The Arizona Pharmacy Association Convention to receive the special rate.)
APhA's Pharmacy-Based Cardiovascular Disease Risk Management is an innovative and interactive certificate training program that explores the pharmacist's role in cardiovascular disease risk management. This practice-based activity is the first step for pharmacists interested in learning the essential skills to successfully assess risk, promote cardiovascular disease prevention, and encourage patient adherence to therapy.
The goals of this program are to:
Educate pharmacists on current evidence-based treatment goals and clinical management recommendations for dyslipidemia and hypertension.
Familiarize pharmacists with important concepts related to healthful lifestyle changes that focus on cardiovascular disease prevention.
Introduce techniques and skills for encouraging patient adherence to prescribed therapies.
Ensure pharmacist proficiency in blood pressure measurement technique and point-of-care lipid testing.
Enhance pharmacist experience in applying elements of motivational interviewing with respect to medication adherence and lifestyle modifications.
Certificate Training Program Components: The activity is conducted in two parts: a web-based self-study and a live training seminar.
The self-study modules will focus on these core areas:

Module 1. Cardiovascular Disease Risk Assessment — Assessment of factors that put patients at an increased risk for cardiovascular disease.
Module 2. Managing Dyslipidenia — Review of pathophysiology, explanation of the recommended approach to treatment, and extensive discussion of pharmacologic options for the management of dyslipidemia.
Module 3. Managing Hypertension — Review of pathophysiology, explanation of the recommended approach to treatment, and extensive discussion of pharmacologic options for the management of hypertension.
Module 4. Lifestyle Modifications and Risk Factor Management —Discussion of recommended dietary interventions, physical activity, weight reduction, and smoking cessation.
Module 5. The Pharmacist's Role in Cardiovascular Disease Prevention and Management — Explanation of ongoing patient monitoring techniques and communication with prescribers to optimize patient self-management (including adherence and behavior change counseling).

The live seminar will focus on these core areas:

A case-based approach to cardiovascular disease risk assessment and treatment decisions, managing special situations, treating hypertension in a patient with diabetes, and lifestyle modifications and motivational interviewing.
Skills assessments on blood pressure measurement technique and motivational interviewing. Participants will be conducting blood pressure assessments on other participants.
A discussion regarding the role of the pharmacist and existing business models for cardiovascular disease risk management services.
Seminar Agenda:
Registation
8:00AM-12:00PM

Welcome and Introductions
Cardiovascular Disease Risk Assessment and Treatment Decisions
Aspirin for Primary Prevention of ASCVD Events
Break (15 min)
Special Considerations for Management of Hypertension and Lipids in Patients with Chronic Kidney Disease or Advanced Age
Treatment Decisions for Patients with Borderline Risk
Managing Risks of Statin Therapy
Hospital Readmissions
Lifestyle Modifications

Lunch and Networking (30 minutes)- Pizza and water will be provided-feel free to bring your own food and snacks
12:30PM-5:00PM

Motivational Interviewing
Motivational Interviewing Activity
Patient Assessment Skills
Blood Pressure Measurement Practice
Break (15 min)
Business Considerations and Practice Models
Transitions of Care Patient Case
Take Home Points, Questions, and Final Instructions
Adjournment
PROGRAM FEE BY PARTICIPANT

UNTIL 3/27/2018

Use Code Below

AFTER 3/27/2018

$350

$400

$450

$500

$250

$300

$300

$350
Use Coupon Code: Cardio216 for the early bird rates
Refund Policy:
Refund and/or cancellation requests must be made in writing to the Arizona Pharmacy Association office. A cancellation request must be made at last fourteen calendar days prior to the scheduled program and will require a $175.00 fee. No refunds will be issued for cancellation requests made less than fourteen calendar days prior to the scheduled program. You must submit a written request to cancel by email, fax, or standard mail and confirm that AzPA has received the request. AzPA reserves the right to cancel any activity due to insufficient pre-registration or as determined by the Executive Director or CE Administrator. In this case, all individuals pre-registered are notified and issued a fill refund. Registration fees cannot be re-allocated due to the multiple steps involved with processing CE Credits. Refund checks will be mailed fourteen business days after the conclusion of the meeting, if approved. For more information about refunds and/or cancellation requests please contact the Operations Director.
Continuing Pharmacy Education (CPE) Information and Activity Completion Requirements:
Initial Release Date: 01/01/2018
Expiration Date: 08/31/2018
Activity Type: Practice-based
Learning Level 2: Experience with the topic is recommended, but advanced expertise or specialty practice in the subject area is not necessary. This activity will focus on expanding the learner's knowledge and application of new and/or more complex information.
Target Audience: Pharmacists in all practice settings
Successful completion of the self-study component involves passing the self-study assessment with a grade of 70% or higher and will result in 12 contact hours of CPE credits (1.2 CEUs). ACPE Universal Activity Number: 0202-9999-18-106-H01-P
Successful completion of the live seminar component involves attending the full live seminar, passing the final assessment with a grade of 70% or higher and completing a skills assessment. Successful completion of this component will result in 8 contact hours of CPE credit (0.80 CEU). ACPE Universal Activity Number: 0202-9999-18-107-L01-P
Once credit is claimed, Statements of Credit will be available online within 24 hours on participant's CPE Monitor profile at www.nabp.net. The Certificate of Achievement will be available online upon successful completion of the necessary activity requirements on the participant's "My Training" page on www.pharmacist.com
Activity Completion Requirements:
A Certificate of Achievement is awarded to participants who successfully complete all activity requirements, which include a pre-test, the self-study activity, the self-study assessment, the live training seminar, and the final assessment. Successful completion is defined as completing the pre-test, a self-study assessment score of 70% or higher, attendance at the live seminar, a final assessment score of 70%, and completion of the activity evaluation.
Activity Requirements - Course material and exams will be accessed online - In order to participate in this activity, registrants must have access to a computer with minimum system requirements: Internet connectivity with current version of internet browsers, such as Chrome, Firefox, Safari, or Internet Explorer (V8 and above); Adobe Acrobat Reader, Flash Player 8 or higher, Windows 95, Pentium 3 or equivalent processor, 64 MB of free memory (not 64 MB total), and Audio: Sound card and speakers or earphones. For full technology requirements, please visit http://www.pharmacist.com/pharmacy-based-immunization-delivery
APhA's Pharmacy-Based Cardiovascular Disease Risk Management was developed by the American Pharmacists Association.
The American Pharmacists Association and the Arizona Pharmacy Association are accredited by the Accreditation Council for Pharmacy Education as a provider of continuing pharmacy education.
Date: Apr 27, 2018 08:00 AM - 05:00 PM
Registration closes on Apr 23, 2018 12:00 AM
Target Audience(s)
Joint Provider
APhA
Please choose a Fee Type from the Drop Down Menu Below:
I am a
Registration closes on Apr 23, 2018 at 12:00 AM
Speaker(s)/Author(s)
Kimberly Langley, PharmD., MBA, BCPS
Clinical Pharmacist, Indian Health Services


Brief Bio : LCDR Kimberly Andrews is a pharmacist with the Indian Health Service (IHS). Her current duty station is the Phoenix Indian Medical Center in Phoenix, AZ. LCDR Andrews received her Doctorate of Pharmacy degree from Medical University of South Carolina (Charleston, SC). She also concurrently earned her Master of Business Administration degree from The Citadel (Charleston, SC). LCDR Andrews is also a Board Certified Pharmacist in Pharmacotherapy. Upon graduating from pharmacy school, she completed an IHS PGY-1 pharmacy residency at the Phoenix Indian Medical Center (PIMC) where she became a credentialed provider for many of the hospital's pharmacy-based clinics including anticoagulation, latent tuberculosis, and immunizations. To improve access to care and clinical outcomes, LCDR co-established a cardiovascular risk reduction clinic managing hypertension and hyperlipidemia as her residency project. After completion of her residency, LCDR Andrews accepted a position as the pharmacy manager at the Santo Domingo Health Center (now known as the Kewa Pueblo Health Center) in Santo Domingo, NM. LCDR Andrews later moved to the Santa Fe Indian Hospital where she served as a clinical pharmacist in the anticoagulation clinic. She continued her involvement with the PGY-1 residency program at Santa Fe Indian Hospital by serving as the direct patient care preceptor for the program. She later returned back to the Phoenix Indian Medical Center in 2012 as a clinical pharmacist working in the acute care and ambulatory care setting including the hospital's pharmacy-based clinics and sought to revitalize services in the Cardiovascular Risk Reduction Clinic, now serving as Clinic Co-Director. She also took on the responsibility as Residency Program Director for the PGY-1 program.

MaryJo Zunic, PharmD, MHA, BCACP, PhC
Pharmacist Clinician, Indian Health Services


Brief Bio : Dr. Zunic graduated from the University of Arizona in 2000 and completed a general pharmacy practice residency at Phoenix Indian Medical Center in 2001. She has continued to develop her clinical skills by completing certificate courses in diabetes, lipid management, hypertension, anticoagulation and immunization prescribing. She earned her BCPS in 2007 and since then has earned her BCACP in 2015. Her pharmacist clinician license was granted in 2005 from the state of New Mexico. Most of her practice has varied from working in the outpatient pharmacy environment at various Indian Health Service sites to also supervising and working as a Pharmacist Clinician within the Healthy Heart Project at Albuquerque Indian Health Center. She now works full time on a patient care team within the Albuquerque Indian Health Service as a pharmacist clinician. In addition to her clinical skills development, she has taken leadership courses with ASHP and completed her MHA with Simmons College in 2013. She was tasked by her clinic to work as a Quality and Performance Improvement officer in 2012, on a one-year assignment to get the organization ready for the AAAHC re-accreditation cycle. She serves in various leadership capacities within her clinic and also nationally on the PHS Pharmacy Professional Advisory Committee. Dr. Zunic enjoys teaching and has done presentations at the National Arizona Pharmacy Association meetings on diabetes care and also within the Indian Health Service Southwest Regional Pharmacy Continuing Education Meeting on various topics such as diabetes care, vitamin D, lipid management, and utilizing quality and performance improvement tools to advance your practice. She has also served as faculty with the Pharmacy Practice Training Program within the Indian Health Service for 8 years now.
Date: 04/27/18
Time: 08:00 AM - 05:00 PM
Registration Closed